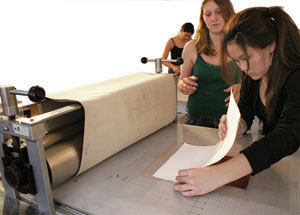 The Ink Shop Printmaking Center is a not-for-profit that promotes fine art prints, works on paper, and artists' books. Founded in 1999, The Ink Shop is operated by artists who offer a professional, open access, community-based printmaking facility and gallery. As a regional resource for printmaking, The Ink Shop offers five program areas: exhibitions related to prints and works on paper including artist books, a "Talk Print" series in which artists present and discuss their work and techniques, Olive Branch Press, which publishes invited artists' prints or artist books, workshops for established and emerging artists, and a year-round studio facility for printmakers and bookmakers.
Each year the Ink Shop organizes about six exhibitions in-house. These include group shows, invitationals, one or two person shows, and membership shows that explore contemporary print and book arts. Members are given the opportunity to participate in an annual membership show, and encouraged to exhibit with The Ink Shop at other venues.
In the intimate space of The Ink Shop, the "Talk Print" series highlights individual artists sharing their insights and experiences about their creative processes and work.
The Ink Shop also offers workshops in a variety of printmaking and bookmaking techniques, a highly qualified teaching staff of professional working artists, and small class sizes. We offer two semesters and an intensive summer camp. We hold both long and shorter workshops at different times, including weekends, to benefit artists and members of the community who wish to gain skills and create their own artwork.
The studio serves a wide range of needs for artists and community members. The Ink Shop provides unique opportunities for artists, such as a year-long Fellowship, internships for college students, and access to the studio at different levels.
The Ink Shop has a strong component of community outreach: Associates provide expertise to the community about fine art prints, serving in various capacities (informing, consulting, facilitating) as community resources. The Ink Shop offers workshops and tutorial opportunities for adults and children. As an exhibition venue, The Ink Shop organizes and facilitates individual, open and group printmaking exhibitions, shop tours, gallery talks and specialized informational meetings and workshops educating the larger community about fine art prints.
The Ink Shop also shares programming with other fine art presses and artists' cooperatives both in the U.S. and internationally. International exchange projects include the publication of special editions and portfolios, as well as exhibitions, workshops and residencies.
Finally, The Ink Shop Printmaking Center & Olive Branch Press is committed to promoting collegiality among artist/printmakers and to maintaining an environmentally responsible facility.
Mission Statement
The Ink Shop Printmaking Center & Olive Branch Press is a not-for-profit printmakers' center, fine art press and gallery that offers professional facilities for the making of fine art prints. We provide a range of equipment for etching, lithography, proofing and letter presses and computer imaging. The Olive Branch Press prints editions and handmade books.
As a regional resource for printmaking, The Ink Shop offers workshops for professionals and the community. The Shop also organizes collaborative projects, group and exchange exhibitions and maintains artists' image files and portfolios for collectors and curators.
Brief History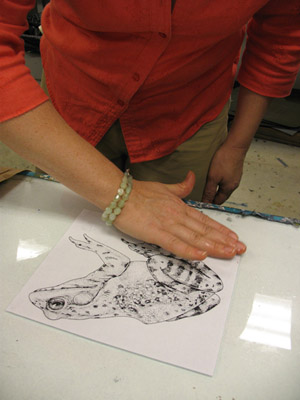 The Ink Shop Printmaking Center was established in 1999 by four artists: Miri Amihai, Pamela Drix, Greg Page, and Christa Wolf. As a not-for-profit 501(c)(3) organization and New York State Charity the shop operates on an all-volunteer basis, at least for now. We are governed by an eleven-member Board of Directors, a three-member Artist Advisory Board and a three-member Executive Committee that oversees the day-to-day operations of the shop. From the onset, The Ink Shop has been dedicated to operating a non-toxic "green studio" without using acids or solvents.
We began our journey in an old airplane factory, then moved to the second floor of an historic building in downtown Ithaca. A fire on the third floor of the building on January 9, 2008 abruptly halted programming for about five months. We sustained significant water and soot damage to artwork, office equipment including computers, and studio equipment. With financial help from our insurance company and the Ithaca community we moved again to our current location on the second floor of the Community School of Music and Arts building on the eastern side of The Commons. We look forward to continuing a collaboration with CSMA in both exhibition and workshop programming.
In a few short years, The Ink Shop has developed a solid reputation for providing professionally curated exhibitions. We have exhibited in Osaka, Japan, Berlin, Germany, Washington D.C., the Open Studio Gallery in Toronto, the Opalka Gallery at Russell Sage Colleges in Troy, NY, the Schweinfurth Memorial Art Gallery in Auburn, NY, and the Herbert F. Johnson Museum at Cornell University.